○ 제품 설명
– 투명 고체로서 분말 또는 입상으로 폴리에틸렌중에서 밀도가 0.9~0.92 사이인 제품을 말함.
Refers to a product with a function as transparency or a figurine whose payoff is between 0.9 and 0.92 in the skeleton.
(분자식 : [-CH2-CH2-]n) 연화점이 물의 끓는점 보다 낮아서 플라스틱 가공을 아주 쉽게 할 수 있으며, 높은 충격강도와 유연성을 가지고 있음.
(Molecular formula: [-CH2-CH2-]n) Its softening point is lower than the boiling point of water, so plastic processing is very easy, and it has high impact strength and flexibility.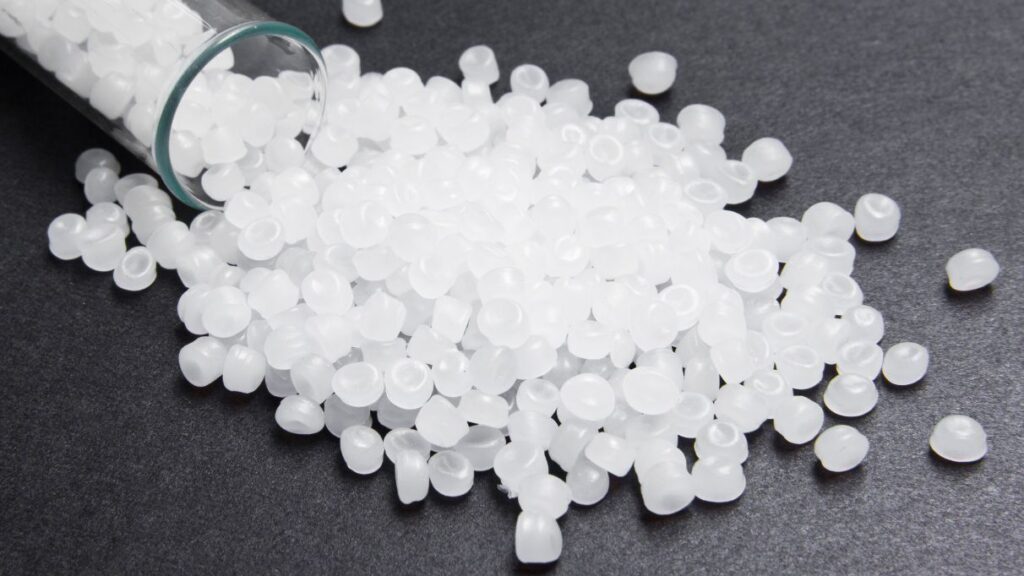 ○ 제조 공정
– LDPE(Low Density Polyethylene)
: 에틸렌을 2,000~3,000기압의 높은 압력하에서 중합하여 제조하는 고압공정으로서 일반적으로 압축, 중합, 분리, 압출의 4가지 단위 공정으로 구성됨.
A high-pressure process produced by polymerizing ethylene under a high pressure of 2,000 to 3,000 atmospheres. It is generally composed of four unit processes: compression, polymerization, separation, and extrusion.
: LDPE를 생산하는 대표적인 공정은 연속교반공정인 Autoclave type과 반응기 길이가 수 Km에 달하는 Tubular type의 두가지임
There are two representative processes for producing LDPE: Autoclave type, which is a continuous stirring process, and Tubular type, which has a reactor length of several km.
(LDPE 1ton 생산하는데 에틸렌 1.01ton이 소요) (It takes 1.01 ton of ethylene to produce 1 ton of LDPE)
– LLDPE(Linear Low Density Polyethylene)
: 5~30기압의 상대적으로 낮은 압력에서 에틸렌과 α-올레핀(부텐, 헥센, 옥텐)의 공중합을 통해 제조하는데, 직선형 주쇄​(Linear main chain)의 분자구조를 가지기 때문에 ​선형저밀도 폴리에틸렌이라고 불림.
It is manufactured through copolymerization of ethylene and α-olefins (butene, hexene, octene) at a relatively low pressure of 5 to 30 atm, and is called linear low-density polyethylene because it has a molecular structure of a linear main chain.
: 1970년대에 들어 UCC에 의해 기상법(Gas Phase) LLDPE와 1980년대에 Dupont, DSM 등에 의해 용액법(Solution) LLDPE가 개발되었고, 이후 촉매기술의 혁신적인 개발에 따라 Super hexene, 메탈로센 등의 공정이 지속적으로 개발되고 있음.
In the 1970s, Gas Phase LLDPE was developed by UCC, and Solution LLDPE was developed by Dupont, DSM, etc. in the 1980s. This is continuously being developed.
○ 주요 용도
– 농업용/공업용필름, 전선피복 등 Agricultural/industrial film, wire sheath, etc.
○ 국내 생산기업
– SK지오센트릭(울산), 한화솔루션(울산, 여수), LG화학(여수, 대산), 롯데케미칼(대산), 한화토탈(대산)
SK Geocentric (Ulsan), Hanwha Solutions (Ulsan, Yeosu), LG Chem (Yeosu, Daesan), Lotte Chemical (Daesan), Hanwha Total Petrochemical (Daesan)